He is tall and slender and walks with long but relaxed strides from Urban Spree's entrance towards our table. We meet Lord Pusswhip on a hot Friday afternoon for an interview and Cocktail mixing session. He wears a black 70's punk rock band hoodie and his long and wavy brown hair falls from under a black base cap, which he often uses to cover his eyes from direct sunlight. On his way to our table he bumps into his cousin who also happened to be there. A few minutes later the two Icelanders separate again and Þórður Ingi Jónsson aka Lord Pusswhip arrives at our table. Outside of Iceland he simply is Thor.  He uses only the first half of his first name. We are curious to find out who the man behind the extraordinary stage name is that is going to perform on the 2016 edition of our Berlin Midsommar Festival.
Without giving to much away, we can tell you that we got to know a well spoken, reflected and analytical young man that doesn't fit the expectations you might get from his artist name.
From Papers to Burgers
The only 22 year old rapper, producer and self explained "experienced horror nerd" has already tried a lot: he was a journalist for two Icelandic newspapers, bar tender at a tourist bar in Reykjavik, he studied electronic music in Denmark where a few of hits were made and studied for a semester philosophy and film theory, which he only signed up for to not always sleep until noon.
– "But everyday I just felt like I was totally wasting my time."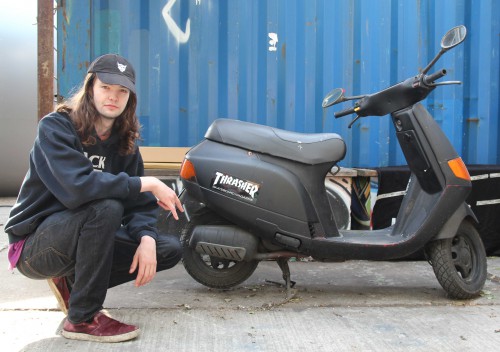 Thor's current occupation in Berlin is not exactly his expertise but he still flips burgers with great love at his fellow Icelander Tommi's burger joint. However, he would like to earn his money with a writing job. He came here to expand his horizon and currently dreams of making film music. But, let's go back to the beginning: Þórður grew up in Reykjavik and was from early on in contact with art and creativity. His mother is a sculptress, his father a TV personality, his brother is a visual artist, his uncle is a writer and his aunt knows Björk. She would play a major role in his decision to move to Berlin, as we will find out later.
The Dirty Kids
His childhood plans to become a lawyer or priest didn't last long and he soon began to play the piano but wasn't doing anything creative with music. Only after the discovery of Punk music in the 7th grade and the formation of his first band "I really started making music", he explains. At around the same time he began his very first rudimental experiments in electronic music. Together with a friend he sampled a horror movie theme, put a drumbeat underneath and added a Charles Manson speech. Ten years later, he is a global artist and producer for international acts like Bones aka [email protected] Kid and Antwon, they listened back to it and realised that "nothing has changed, we're just better at making beats."
Thor's deep love for horror movies started when he was only a kid. His big brother showed him R-rated and very gory horror movies, which had a very strong effect and deep impact on him.
–"It influenced my aesthetics a lot and they go together with heavy music and Goth stuff."
At the beginning of their teens he and his crew started listening to black metal, noise music, and alternative rap. They became the "dirty kids", the teenagers that went out to smoke during school.
– "We had a bad reputation but also always the best parties, so everyone was coming over, that was a good time."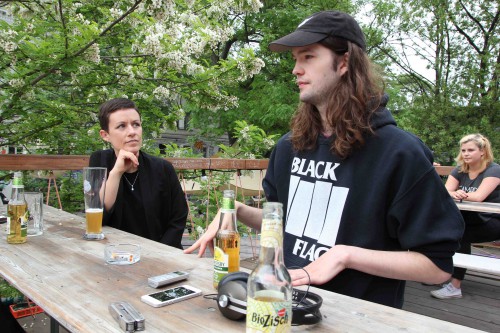 Pusswhip comes to Life
At around the same time his own rap game started and Pusswhip came to life. One of his buddies invented the name and Thor called himself first DJ Pusswhip and soon Lord Pusswhip. He has to laugh when we ask about the meaning of the name and he tells us that there is no concept and meaning at all.
–"I think it's really funny when people say that the name is sexist."
Nevertheless, Lord Pusswhip's partially grotesque lyrics are clearly looking to confront. His song "Seljandi Krakk Sleitulaust" (selling crack non-stop) for example is a strong reaction to the "super-woolly-sweater-cute/we're-close-to-nature" aspects of Icelandic culture and music business. Besides, he also felt the dynamics of rap business infect his personality. The public competition and constant show off of skills didn't match with how he sees himself:
– "I was getting heated and stuck in this mind-set. I'm very non-confrontational and peaceful."
Berlin Calling
Last summer Thor spent his vacation in Berlin and heard that the famous DJs Arca and Lotic would play on Björk's after show party. He tried everything to also play there but didn't succeed. Just when he was about to board the plane back to Reykjavik he got a call from his aunt that knows Björk. She managed to put him on the guest list. He just walked out of the airport and had to buy a new ticket for like €200.
– "But it was just totally worth it! I met everybody and the DJ set was just next level, I had never seen anything like it. It was just light-years from what was going on in Reykjavik. I was so inspired that I wanted to move!"
Fuelled by the inspiration he made a mix for Berlin Community Radio in just two hours and discovered Berlin's music scene. He played a few shows with Yung Hurn's label Live On Earth. His laid-back, fat and sometimes edgy trademark sound has also gotten a little make over. The omnipresent house and techno music influenced Lord Pusswhip to experiment with faster and more danceable tempos.
– "I have a few tracks that I am really happy with. They have a driving beat but they don't sound like Berlin techno. I always love to explore new music."
We are curious to hear the smart and versatile artist on 24.6.2016 when he performs live at Berlin Midsommar Festival 2016. Click also here to get to our exclusive cocktail mixing session where Lord Pusswhip told us even more stories.
You might also like