Slowly but surely MIDSOMMAR is coming closer and we are happy to announce the first live acts and DJs today. Danish pop singer WANGEL, Icelandic rapper LORD PUSSWHIP and Bergen band CHAIN WALLET will be part of this year's Midsommar line-up. FluxFM radio host & DJ Sascha Schlegel and Nicola & Nicolas from Kaltblut Magazine aka POP SLUTTIES will play some hot Midsommar Disco tunes. Girls & boys, there are still a few free tickets left, but better be quick this time! 
Berlin Midsommar Festival will take place on June 24th at Urban Spree and is presented by Nordic by Nature, Norr Magazine, FluxFM, Berlin Sessions, SPEX & Kaltblut. Special thanks goes out to our partners Göteborg, Norr Magazine, Somersby, Airberlin & Our/Berlin for their fantastic support.
The festival starts at 4 PM and we celebrate into the next morning. Everyone is welcome!
WANGEL will perform at this year's summer solstice celebration. In his home country Denmark, fans and press celebrate the young artist heavily. Wangel will set the mood with his fantastic live performance and his distinct and roaring voice. His latest single Lithium gives us a taste of what to expect.
Icelandic rapper LORD PUSSWHIP and his experimental hip-hop takes the concept "show" to the next level. His music is influenced by old school hip-hop, punk and horror movies. Check him out at Midsommar to find out if his title described him well enough. Who of us doesn't need to get whipped once in a while?
CHAIN WALLET continue the so called 'Bergen Wave'. The sound of the Norwegian trio is dreamy and nostalgic and has a very strong 80's vibe. Chain Wallet's performance will connect memories of easier times with the celebration of the longest day of the year. You don't know what we are talking about? Then listen to Chain Wallet's latest single Shade.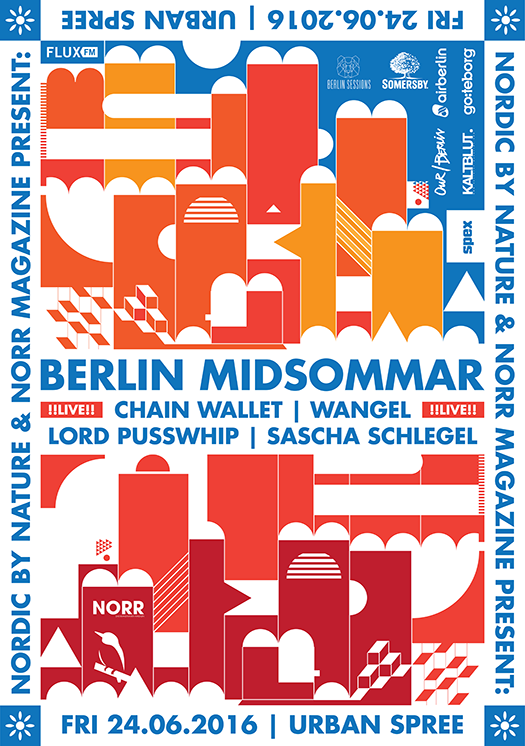 You might also like