From November 7th-8th I went to Kristiansand in Norway to see and listen to some newcomers at the festival Sørveiv 2014. This tiny, but cosy and very charming festival turned Kristiansand's few venues into pumping concert halls on Friday and Saturday night. Since I know myself and my fondness of beer (and jesus, someone should tell these Norwegians that beer isn't liquid gold!), I wrote some notes. I have left the weirdest bullshit out, so that you'll only get the nicest words and pictures from Sørveiv 2014.
Friday morning started with some tea and working out a schedule for the nights, and as you can imagine, I wanted to see everything.
If I would be able to stick to this schedule, is a whole other story. Even though all the venues were placed within a short walking distance, it often took me a bit longer (it gets really dark in Norway…).
Friday night I started out with Sivu. The singer/songwriter played at Alladin, which is a cinema turned into concert venue. Suddenly I realised that I had to run to catch Psyence Fiction at Håndverkeren. I don't know if all the underaged (looking) people dressed in neon colours were the ones who distracted me, but I got lost for the first time. Some photographer-dude saved me - actually he saved me again 2 minutes later, as I did not have any ID on me, and the bouncer wouldn't let me in (obviously the lack of neon-paint in my face told him, that I did not finish any exams today, so I could only be one thing: underaged). However, the photographer-dude got me in, and I am very glad he did, 'cause Psyence Fiction's warmth and playfulness got me in a mood that was more suitable for a festival.
After my hassle to find the venue, I decided that it would be the smartest thing to stay and see if The Fjords really could be as good, as everyone was saying. After the Trondheim-based The Fjords' thunderstorm rolled over me, I was kind of convinced.
At 23.45 I stumbled down to see Danish MC Black Daniels. They were totally new to me, but Drum'N'Bass is never wrong in my opinion. The set up consisting of MC Black Daniel, MC Alvarado, a DJ and the sickest drummer aka living drum machine directly flown in from Christiana in Copenhagen headed up the place so much, that the Norwegian vikings started shakin' their beards. MC Alvarado had the perfect mixture of offensive lyrics and a female feeling for beats. I am pretty sure we're gonna hear some more from her, she is already being traded as the new Natasja, and female MC's are hitting it right now. Convince yourself on our Amazing Sweden playlist.
I sprinted over to Charlie's Bar, where Slutface were playing. We had them in our '10 new discoveries from Norway' in September, and they performed an ecstatic show.
Friday night was finished off at the smallest-ever venue, a tiny wooden house on the top of a hill, where the Norwegian Bjørkås started at 00.00. His fellow, Norwegian Sprutbass finished off an hour later. I don't know if the beers kicked in, or what was going on, but the floor was shaking.
Again on Saturday I started the night at Aladdin, this time with Sgrow from Oslo. Their heartfelt electronica caught me, and they have a special warm and organic sound.
I let myself be convinced that I had to see at least one of the headliners, and I'm glad I did, 'cause Torgeir Waldemar never let's anyone down. After that I stuck to my own plan, which was a band that I had heard a lot of rumors about. Pale Honey is a duo consisting of Nelly and Tuva, and they make straight up, dry rock. It sounds like Pale Honey took a rough version of their music, put it in a pan, brewed it all up, and now we are left with the finest, tastiest reduction. Oh, and yeah, it's Nelly playing the drums, that makes everything even more cool.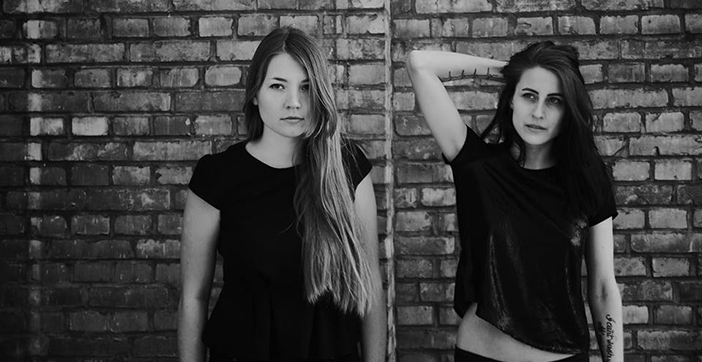 I went back to my favorite venue, Aladdin. Sekuoia had already started, and his combination of the organic and the electronic came together in a dreamy meltdown, which you also can experience at Ja Ja Ja Berlin in December.
A little later, Hey Elbow played at Håndverken. It's always impressive to see someone doing two things at one time, and Ellen from Hey Elbow mastered the trumpet and the synths perfectly. The performance showed the dreamy universe of Hey Elbow, which was broken at the right spots by guitar riffs and drum solos.
The last thing I had to accomplish during Sørveiv, was to get down to Benny's to see Get Your Gun from Denmark. The venue was placed down by the water, and I got a bit too focused on that water, so I took a little deroute before I found it. The venue was filled up with a lot of big-bearded men, and Get Your Gun rounded the weekend off very nicely in these surroundings. Since I'm nor big and neither the proud owner of a beard, I just stayed in the back, and enjoyed the heavy darkness, that was guided by an up-lifting violin.
After the concert I met up with the Danish crowd outside. Sekuoia and Get Your Gun lined up for a photo, and all I had to do was to touch the button without blowing smoke onto the lense….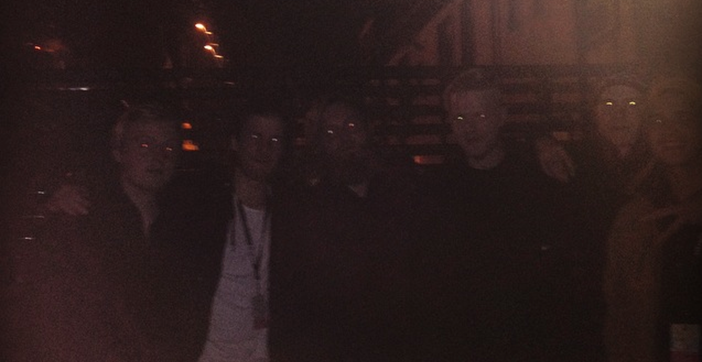 Meet the guys with eyes like lightnings. What a festival.