A couple of weeks ago we caught an airberlin flight from Berlin to Göteborg with a Very Important Mission: to create an awesome VEGAN guide to the city. We have done a lot of research, consulted the locals, and tested quite a few places ourselves to find the best of the best vegan options for breakfast, lunch, and dinner. To spice it up a little bit, we also selected some cool spots in the city so that you can fill your day in between meals. And here's the result: our ultimate guide on how to spend 24 - fully vegan - hours in Gothenburg.
STOP 1: BREAKFAST AT THEKITCHEN
One way to start off your day right is to have a delicious and healthy breakfast. If you happen to be starting off your day in Gothenburg, don't think twice and head to TheKitchen. This cozy café offers some of the best dishes from the world of breakfasts: think porridge, smoothie bowls, sandwiches, pastries. And basically everything is or can be served vegan! We decided to go for porridge as it comes with the most heart- and stomach-warming toppings you can think of, like blueberry and liquorice, or apple and cinnamon. Ours was with oat milk, fresh pear, walnuts, honey, and cinnamon - and yes, it tastes just as good as it sounds!
TheKitchen
Mo-Fr 10-flexible, Sa 10-16
Instagram // Facebook
Alternative options:
STOP 2: TRÄDGÅRDSFÖRENINGEN
What about some time traveling right after breakfast? In Gothenburg you can easily go two centuries back just by visiting Trädgårdsföreningen - or the Garden Society of Gothenburg in plain English. It is a charming park that was established by King Karl Johan who ruled over Sweden and Norway back in the 19th century. And ever since its foundation, Trädgårdsföreningen has remained virtually unchanged. The absolute highlight is the Palmhouse: an impressive and exquisitely majestic glass building where you can see hundreds of exotic plants from all over the world. It's a truly magical place - and, needless to say, very instagramable too!
STOP 3: BRUNCH AT FRILAGRET
Time for the next meal! Our tip is Frilagret, a culture house and a meeting space that hosts all sorts of events: concerts, conferences, workshops, lectures, exhibitions - you name it! It is also a café, and every Saturday from 12 till 16 it serves a fully vegan brunch. The brunch buffet is not too vast, but that means that you can actually try out everything - and that's what we definitely recommend you do! Roasted potatoes, colourful salad, gluten free toasts, delicious home-made dips, fresh waffles with whipped cream and fruit, granola…Plus coffee and tea galore, comfy armchairs and free wi-fi - it doesn't get much better than this, does it? One thing that totally won our hearts over, however, is Frilagret's own house-made ice-cream. We were lucky to try out their coconut strawberry batch - yum!
Kafe Frilagret
Vegan Brunch: Sa 12-16
Price: 125 SEK per person
Web // Instagram // Facebook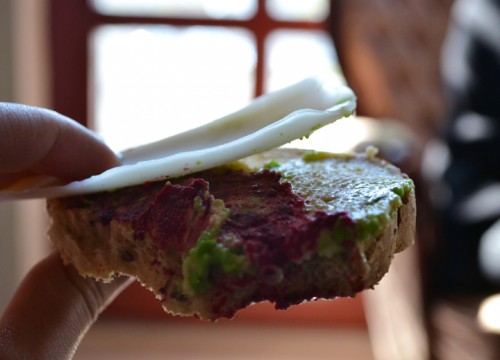 Alternative options:
STOP 4:  SHOPPING AT THRIVE STORE
Whether you admit it or not: no trip is complete without at least a little bit of shopping. And apparently, it is also something you can do in a vegan - and conscious - way! While walking around town after brunch, we stumbled upon a lovely store called THRIVE - dedicated to organic, fair, and sustainable fashion. Fredrik, one of the founders of THRIVE, told us that he hand-picks everything in the store, making sure that all the products are cruelty free and PETA-approved. So if you're looking for, say, a new pair of jeans or shoes that are good for both you and the planet, THRIVE probably has them!
THRIVE Store
Mo-Fr 11-18, Sa 11-16, Su 12-16
Web // Instagram // Facebook
Fredrik also shared some of his favorite vegan places in Gothenburg with us:
STOP 5: FIKA AT ST. AGNES KAFE
One thing you really, really need to do while in Sweden is to have at least one fika a day: that is, indulge in coffee and cake! Gothenburg has fika-appropriate venues on almost every corner, but our choice fell on the café called St. Agnes. Most of the cakes and pastries there are fully vegan: from cinnamon buns to carrot cake to brownies, St. Agnes has got it all! It took us quite a bit of time to make up our minds: after long deliberations, we ended up with huge slices of a traditional Swedish princess cake (prinsesstårt) and - wait for it - a chocolate peanut fudge cake! Thanks to the colourful and slightly whimsical decorum, fika at St. Agnes felt a bit like an Alice in Wonderland tea party (only with coffee). The bottom line is, if we lived in Gothenburg, we would probably spend most of our days having fika at St. Agnes!
St. Agnes Kafe
Tu-Fr 11-18, Sa-Su 11-16
Instagram // Facebook
Alternative options:
STOP 6: HAGA DISTRICT
A former working class suburb with quite a shady reputation, Haga has been transformed into one of Gothenburg's most charming districts. The concentration of old wooden houses, little local shops, and cozy cafés in Haga is overwhelming: your chances to bump into one or another are pretty much 100 percent. We say: there's hardly a better way to spend an afternoon than to stroll around Haga, going from one thrift store to another, watching people, and grabbing an occasional oat milk cappuccino here or there.
STOP 7: DINNER AT BLACKBIRD
We were really looking forward to our dinner at Blackbird because pretty much everyone we had talked to just kept on raving about it. Blackbird is a vegan bar and restaurant, so everything on the menu is fully vegan - from snacks to desserts to drinks. On top of that, all the cheeses, tempeh and seitan products are home-made from scratch! All the options on the menu sounded intriguing, so we had to make yet another tough choice! For starters, we had fried chili cheese with hot jalapeño and sweet potato fries with lime dressing. Then came the main courses: Nina got the creamiest and cheesiest mac'n'cheese - with spinach & red onion salad and buffalo nuggets (we're not sure what that means but they were delicious!). Darya had a humongous panini filled with tempeh and all sorts of veggies, and crisps on the side. This mighty feast was a perfect ending to our first, and hopefully not last, vegan odyssey to Gothenburg!
Blackbird
Tu-Th 17-23, Fr-Sa 17-01
Web // Instagram // Facebook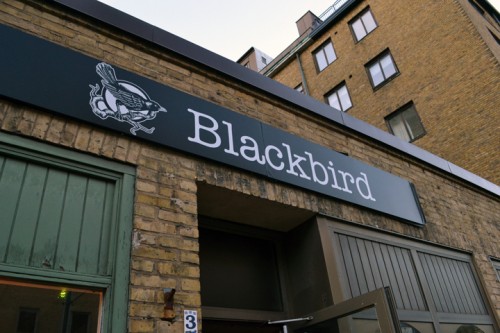 Alternative options:
As you can see, Gothenburg is a real gem of a city! Whether you are a hardcore vegan or a person who cannot imagine their morning without fried bacon and eggs, we are pretty sure that Gothenburg will have something in store for you.
Nordic by Nature would like to thank airberlin for making this trip possible. NB: airberlin offers four flights a day from Berlin to Gothenburg!